Flashing Remediation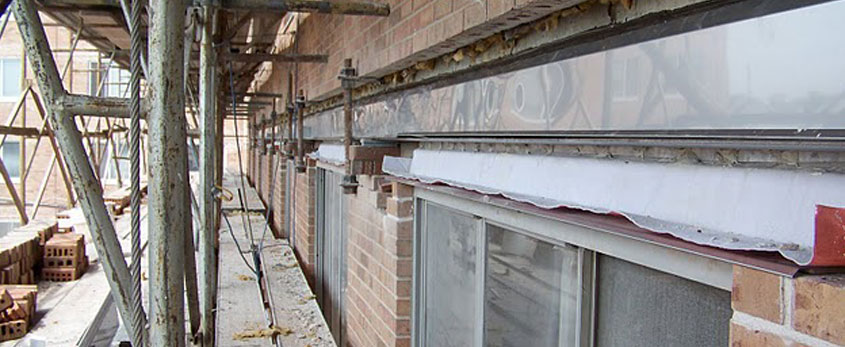 Masonry building materials are absorbent, meaning all masonry veneers can become saturated with water and dry out, which may accelerate deterioration. In order to manage water saturation effectively, through-wall flashings must be installed above window and door openings, the base of walls, relief and shelf angles, and at rooftop elevations.
In older buildings, flashings are typically not installed, which decreases the structure's life. In newer buildings, we often find that though flashings are installed, they contain several design flaws, rendering them ineffective. Due to the importance of flashings, we recommend you undergo an evaluation on your own building to see if you are in need of flashing remediation.
Why Masonry Restoration, Inc.?
If flashing details are not properly executed, the flashing has the potential to leak, allowing water infiltration and reducing the lifespan of the structure. Flashing remediation accounts for a significant percentage of the repairs we perform, and our experts have perfected the details of the process.
We will help prevent water infiltration and improve the integrity of your building by performing these steps:
Removal of the masonry above the location, typically 3-4 courses high. (When suitable matching materials are not readily available, additional precautions are taken to salvage as much of th existing materials as possible for re-use.)
Removal of the existing flashing.
Mechanical cleaning, priming, and repainting or replacement of the structural steel.
Installation of a new stainless steel drip edge.
Installation of new flashing containing end damns and weeps. (Continuous weep designs are available.)
Installation of a termination bar, appropriate fasteners, and sealant.
Re-installation of the masonry matching the original in color and composition.